Housing & Travel
2018 VenueConnect Hotel Information
 
Fairmont Royal York
(Headquarter Hotel)
100 Front Street W. Toronto, ON M5J 1E3, Canada
Rates: $243CAD single/double (~$194USD as of October 2017)
Hotel cutoff is Tuesday, June 26, 2018.
The Fairmont Royal York recently completed a five year multi-million dollar guestroom renovation, featuring more Luxury and Signature rooms across their 11 floors. Located in the center of Downtown Toronro, this hotel's newly re-designed guestrooms are a fresh, modern addition to the regal elegance of the hotel. The Fairmont Royal York offers a newly renovated pool and health spa and fitness center, satellite iPad check-in and digital path-finding monitors. In room amenities include new HDTVs with upgraded services on demand and High Speed Internet Access.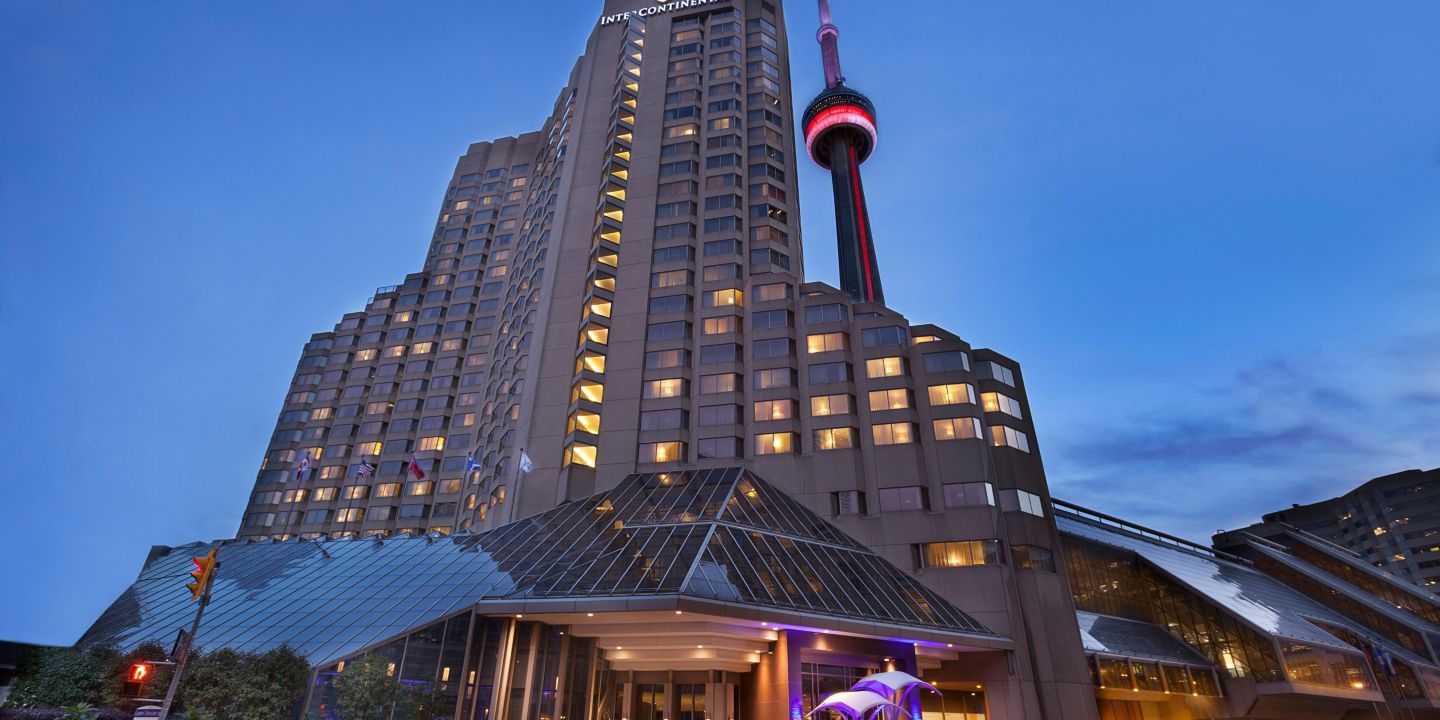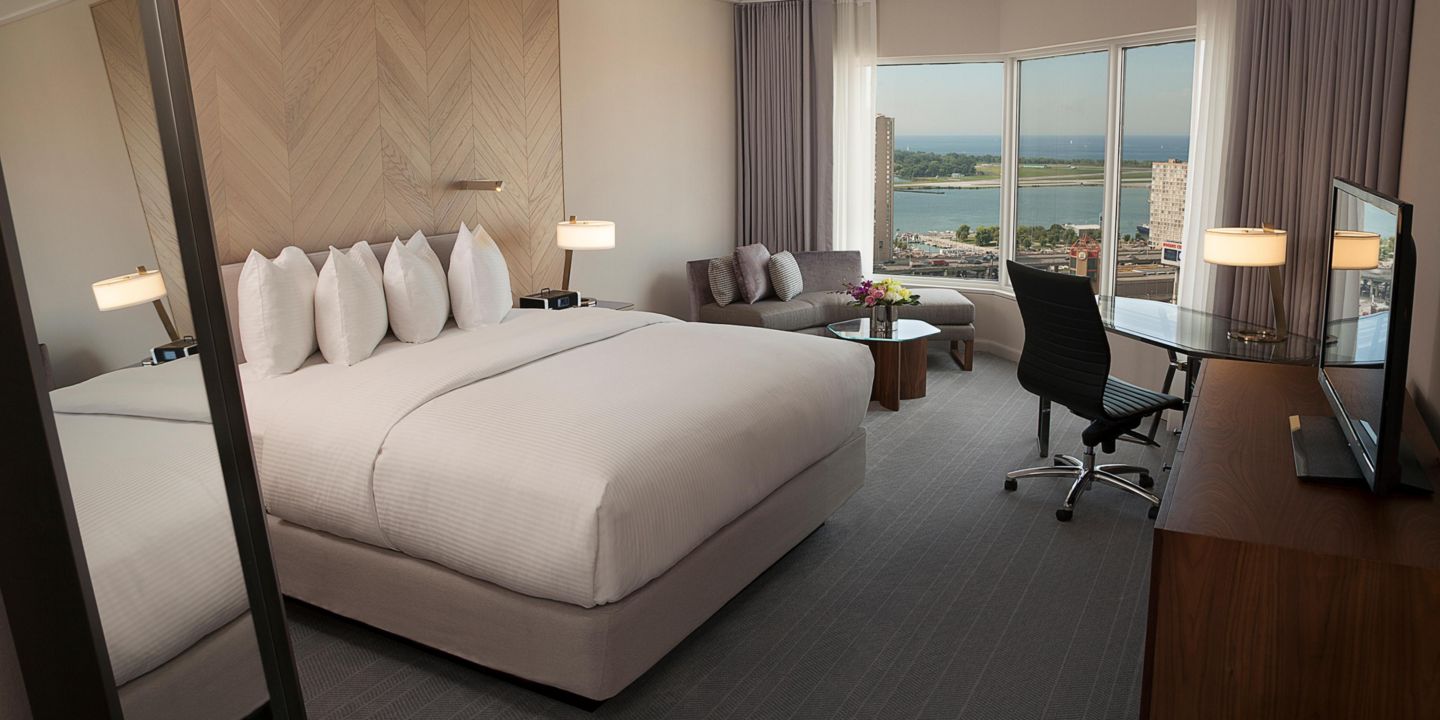 InterContinental Toronto Centre
225 Front Street W. Toronto, ON M5V 2X3, Canada
Rates: $239CAD single/double (~$191USD as of October 2017)
Hotel cutoff is Tuesday, June 26, 2018.
The InterContinental Toronto Centre is located steps away from popular attractions in downtown Toronto. This upscale hotel offers the perfect combination of contemporary elegance, luxurious comfort and modern convenience. The InterContinental has complimentary wireless internet connection for IAVM guests  and a variety of dining options. The guestrooms include a large flat-screen tv, luxurious finishings and sweeping city and lake views.
Marriott Delta Toronto Hotel
75 Lower Simcoe Street Toronto, ON M5J 3A6, Canada
Rates: $259CAD single/double (~$207USD as of October 2017)
Hotel cutoff is Tuesday, June 26, 2018.
The Marriott Delta Toronto Hotel is located on the vibrant downtown Toronto waterfront. This hotel is connected to the Metro Toronto Convention Centre, where all educational sessions will take place. The Marriott Delta features sleek rooms with complimentary wireless internet connection, 24-hour fitness center, and delicious on-site dining. The guestrooms include a 42in. flat-screen tv, complimentary bottled water and showcase views of the Toronto skyline.
Ground Transportation
Toronto Pearson International Airport (YYZ) is located about 16 miles northwest of the Metro Toronto Convention Centre.
Taxi: Approximate fare range $60-$70CAD and takes about 25-30 minutes.

UberSELECT: Approximate fares

range $67-$88CAD and takes about 25-30 minutes.

UP Express connects Toronto Pearson International Airport to Union Station in the heart of downtown Toronto (steps from the Metro Toronto Convention Centre) in just 25 stress-free minutes—less than half the time it often takes by car. Trains leave every 15 minutes.

UP Express tickets can be easily purchased at UPexpress.com. To get the 25% discounted group rate, use the promo code IAVM2018 on your adult return tickets (Pearson Station to Union Station) during purchase.
VenueConnect shuttles buses will provide transportation to:
IAVM Foundation Golf Tournament

IAVM Foundation Legacy Project 

Venue Tours (for those not within walking distance)
Basic Travel Requirements
You must:
Have a valid travel document, like a passport or passport equivalent, such as enhanced driver's license or NEXUS card

Electronic Travel Authorization (eTA): Canada's new entry requirement for visa-exempt foreign nationals travelling to Canada by air. Exceptions include: U.S. citizens and travellers with a valid visa. Eligible travellers can apply online for an eTA. Travellers will need an eTA before they can board a flight to Canada.

Be in good health

Have no criminal or immigration-related convictions

If you have been convicted of driving while impaired by alcohol or drugs, you will probably be found criminally inadimissible

to Canada. However as of March 1, 2012, you may be able to get a temporary resident permit for one visit without paying the processing fee. More information here.

Convince an immigration officer that you have ties - such as job, home, financial assets or family - that will take you back to your home country

Convince an immigration officer that you you will leave Canada at the end of your visit

You can find more information here.
Inform your cell phone provider that you are heading out of the country to avoid roaming charges.

Make sure you know how your smartphone works. All smartphones are capable of using cell data, even when they are just sitting idle. Any apps that are set up to periodically check for new stuff (mail, news, updates, etc.) will automatically activate (and use data) even if you aren't using it at the time.

Use Wi-Fi whenever possible while out of the country.

Some Canadian towns and cities accept both Canadian and U.S. dollars, but you should familiarize yourself with Canadian money. For tips on using debit or credit cards in Canada, click here.

Canada adds a federal sales tax to all goods and services. The tax refund program for visitors to Canada was dropped in 2007, so you won't get them back.
Read up on local laws and regulations about firearms.
You should check with your existing health insurer to determine if your healthcare policy covers unexpected medical services you may require while visiting Canada. You can by temporary travel health insurance policies to cover any unexpected health costs you may require while visiting Canada.